About us
The Conscious Farmer Team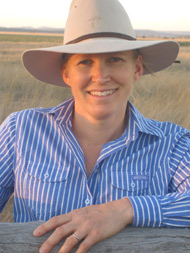 Kirrily – The Conscious Farmer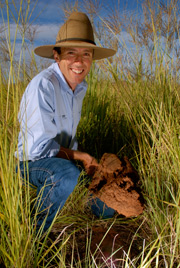 Derek – the beef producer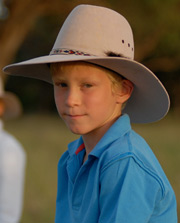 Patrick – the right-hand man
Reilly – the animal lover
I am Kirrily Blomfield, The Conscious Farmer.
Our Farm
My husband and I own and manage a grassfed beef producing business near Quirindi, on the productive and fertile Liverpool Plains of New South Wales, Australia, with our two boys and Derek's father.  We market our beautiful, healthy GRASSFED BEEF direct to families & consumers and manage the land in a regenerative manner.  We make conscious decisions about our farm, our life, our livestock and our health, as well as the effects these decisions have on our land and our future.  We have fun whilst we do it!  See OUR FARM to learn more.
We love having a farming business, working with nature, the variation of challenges and activities, living in our clean environment and doing the ever important job of producing food.  I love this more now that we have a direct link with those consuming our grassfed beef direct from the farm.
My Passions
Regenerative agriculture is my passion and I am committed to bringing practical, regenerative, profitable farming practices to the world.  If we are to produce healthy food in healthy landscapes we need to embrace what nature intended and be conscious of….
the soil and its microbiology,
the landscape and it's ground cover
the water and it's movements
soil carbon and organic matter. 
We must embrace sustainable practices like
pasture cropping
high density grazing
biological farming
cover cropping
natural sequence farming
My history
Agriculture has always been in my life, from my childhood years on my family's grazing property, to studying a Rural Science degree, to my years as an agronomist and recently, facilitating information sharing among farmers.
I don't profess to be an expert of all things regenerative in agriculture, but I do know how to effectively share from those who do!
I believe in maximizing farm productivity in a sustainable manner – because we can't have one without the other!  I want to understand the science behind certain farming practices and why they work.  I believe in holistic and preventative health – consuming mineral rich healthy foods and being happy in the lifestyle we choose – to ensure our longevity and fulfillment.
My purpose
I see a world where we have healthy landscapes in which to live and thrive, producing mineral rich, healthy produce.
I want to help achieve this through sharing with my blog subscribers, practical, regenerative agriculture practices and ideas from around the world, from the little known innovators in sustainable agriculture, to the industry champions whom are well known to all.  I want to help my subscribers be profitable and sustainable and able to pass on the family farm to the next generation.   I am inspiring them with a world of regenerative agriculture and sharing industry stories so that they too can be conscious farmers.
It's you, it's me, it's all of us… we are the conscious farmers.
To follow the conscious farmer blog SIGN UP HERE.